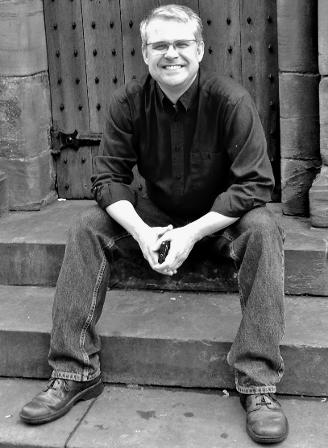 What's in a name?

Ekbladh is a surname chosen by one of my ancestors over 100 years ago. At that time a man named Christiansen, upon entering military service, was required and requested to change his last name. It was commonplace to be known as your father's son – Ander's son or Christian's son – and it led to so many of the surnames we have today. I imagine this ancestor of mine standing in the enlistment line looking out a window thinking of a new name when he saw an oak tree, or "ektrad", and thought of a family tree and each ancestor an oak leaf, or "ekblad," which lead to the Ekbladh name.
Born in Dallas, Texas (1970), Michael E. Ekbladh has served numerous choirs in Texas, Illinois and Arkansas. He holds a Masters in Music-Conducting from Texas Christian University and has pursued a Masters in Sacred Music from Southern Methodist University. Michael was also director of choirs for Pulaski Technical College from 2011-2015 and is founder and artistic director for Exsul. In 2016, Michael formed The Palace Singers; a choir-in-residence for The Bishop's Palace in Galveston, Texas which continues today. Currently, he serves as Director of Music Ministries for First United Methodist Church of Gainesville, Florida.
He has served as conductor, clinician, or instructor for such organizations as the Texas Conference Choir Clinic, Southern Methodist University, Arkansas Children's Choir Festival, music conferences, and churches of all denominations.
Michael has also worked with such composers, conductors, and text writers as Alice Parker, Jane Marshall, John Thornburg, Shirley Erena Murray, John Leavitt, Paul Leddington Wright, Constantina Tsolainou, John Giordano, Ronald Shirey, William Gorham and Dr. C. Michael Hawn. Memberships and affiliations include Choristers Guild, American Choral Directors Association, The Fellowship of United Methodists in Music and Worship Arts, and The American Society of Composers, Authors, and Publishers. Michael is published through JW Pepper, CadenzaOne, Sheet Music Plus, The United Methodist General Board of Discipleship, and Lorenz Publishing.