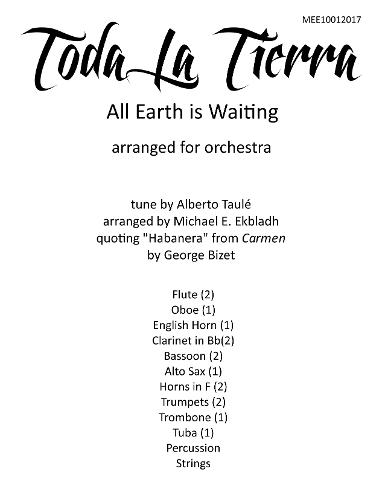 TODA LA TIERRA
tune by Alberto Taule
arranged for orchestra by Michael E. Ekbladh

Quoting "Habanera" from Bizet's Carmen, this fun and light concert piece is perfect for your Holiday Concert. The Spanish carol "Toda la Tierra" by composer Alberto Taulé provides a beautiful folk-style tune blending the agrarian images of the Spain countryside. Michael Ekbladh's arrangement brings together this Spanish imagery with the flair of Spanish dance music.



To purchase, click the J.W. Pepper image.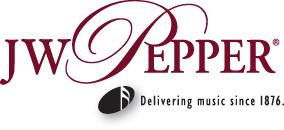 Toda la Tierra Premiere 2017.mp3
The Music of Michael E. Ekbladh

"Magnificat"
(brass, timpani, percussion, and organ)

"When Jesus Wept" text by Shirley Erena Murray
(flute, oboe, horn, strings, timpani, percussion, and organ)

"Arise, My Beloved"
(brass, timpani, percussion and organ)

"I Cry to Thee: Psalms of Lament and Hope"
(full orchestra)

"Saints for All Seasons" collaboration with Jane Marshall and John Thornburg
(full orchestra)

"A Celtic Prayer"
(full orchestra)

"A Parting Blessing"
(flute, oboe, clarinet, horns, strings and harp)

"A Mighty Fortress Is Our God"
(percussion and organ)

"Children of the Heavenly Father"
(flute, oboe, clarinet, horns, strings and harp)

"Create in Me a Clean Heart, O God"
(flute, oboe, clarinet, bassoon, strings and harp)

"This Quiet, Calm and Holy Place"
(flute, oboe, clarinet, bassoon, strings and harp)

"People, Look East"
(flute/recorder, percussion, and organ)

"Psalm 121"
(full orchestra)

"In the Bleak Midwinter"
(full orchestra)

"Away in a Manger"
(full orchestra)

"Jesus, Keep Me Near the Cross" (hymn)
(flute, oboe, horn, strings, timpani, percussion, and organ)

"When I Survey the Wondrous Cross" (hymn)
(flute, oboe, horn, strings, timpani, percussion, and organ)

"O Sacred Head Now Wounded" (hymn)
(flute, oboe, horn, strings, timpani, percussion, and organ)
"When Jesus Wept"
(2 flute, 2 oboe, 2 Bb Clarinet, 2 Bassoon, 2 Horns, Percussion, Timpani, and Strings)


Secular

"A Whole New World" from Aladdin
(flute, clarinet, brass, synth., percussion)
"Just Around the River Bend" from Pocahontas
(flute, clarinet, brass, synth., percussion)

"Colors of the Wind" from Pocahontas
(flute, clarinet, brass, synth., percussion)

Medley from The Hunchback of Notre Dame
(flute, clarinet, brass, synth., percussion)
"When You Wish Upon a Star" from Pinocchio
(flute, clarinet, brass, synth., percussion)
"The Prayer" from Quest for Camelot
(full orchestra)
"The Luckiest"
(strings)

"You'll Never Walk Alone" from Carousel
(strings)

"As with Rosy Steps" from Theodora
(strings)

There's No Business Like Show Business
(tenor sax, bari sax, 2 trumpets, trombone, bass)

"Defying Gravity" from Wicked
(flute/piccolo, clarinet, 2 trumpets, trombone, percussion)

"For Good" from Wicked
(flute, clarinet, triangle)

"Brooklyn's Here" from Newsies
(flute, clarinet, 2 trumpets, trombone)

"Seize the Day" from Newsies
(2 trumpets, trombone)

"America" from West Side Story
(percussion)

"Maria" from West Side Story
(flute, clarinet, triangle)



The Music of Joseph Martin
"Empty Now"
(brass, timpani, percussion, handbells and organ/piano)
"Who Are the Brave?"
(flute, oboe, trumpet, strings, timpani, percussion and piano)
"Come to the Music"
(flute, oboe, trumpet, strings, timpani, percussion and piano)
"Toccata of Praise"
(flute, oboe, trumpet, strings, timpani, percussion and piano)
"Give Us a Song"
(flute, oboe, trumpet, strings, timpani, percussion and piano)
"The Arrow and the Song"
(flute, oboe, trumpet, strings, timpani, percussion and piano)
"The Quest Unending"
(flute, oboe, trumpet, strings, timpani, percussion and piano)


The Music of Howard Helvey
"Sing We Now of Christmas" arr. by Howard Helvey
(brass, timpani, percussion and piano)

"Come, Thou Long Expected Jesus" arr. by Howard Helvey
(brass, timpani, percussion and piano)

"Go, Tell It on the Mountain" arr. by Howard Helvey
(brass, timpani, percussion and piano)

"Christmas Glory" arr. by Howard Helvey
(brass, timpani, percussion and piano)


The Music of Jane Marshall
"My Eternal King"
(brass, timpani, percussion, organ)
"He Comes to Us"
(brass, timpani, percussion, organ)

"Lord of All Hopefulness"
(flute, clarinet, oboe, strings, and harp)

"Saints for All Seasons" by Jane Marshall, text by John Thornburg
(full orchestra)
"I Did Not Know" by Jane Marshall, text by John Thornburg
(full orchestra)

"Help Us Sing Again" by Jane Marshall, text by John Thornburg
(full orchestra)

"Horizon of Hope" by Jane Marshall, text by John Thornburg
(full orchestra)

"Let Us Pray" by Jane Marshall, text by John Thornburg
(full orchestra)

"How Dare They Think that We Are Drunk" by Jane Marshall, text by John Thornburg
(full orchestra)
"Listen, O People of God" by Jane Marshall, text by John Thornburg
(full orchestra)

"A Breathing Space" by Jane Marshall, text by John Thornburg
(full orchestra)


Mrs. Miniver

"At Last"
(Soprano Sax, Tenor Sax, Trumpet, Trombone, Piano)

"Beautiful Girl"
(Violin, Soprano Sax, Clarinet, Trumpet, Trombone, Piano)

"Dark Rapture"
(Violin, Soprano Sax, Clarinet, Trumpet, Trombone, Piano)

"Fascinating Rhythm"
(Violin, Soprano Sax, Clarinet, Trumpet, Trombone, Piano)

"Have You Ever Been Lonely"
(Violin, Soprano Sax, Clarinet, Piano)

"Hoosier Hop"
(Violin, Soprano Sax, Clarinet, Trumpet, Trombone, Piano)

"Hundred Pounds of Sugar" by unknown
(Violin, Soprano Sax, Clarinet, Trumpet, Trombone, Piano)

"I Get the Blues When it Rains"
(Violin, Soprano Sax, Tenor Sax, Trumpet, Trombone, Piano)

"Moanin' Low"
(Violin, Soprano Sax, Tenor Sax, Trumpet, Trombone, Piano)

"Stop It! It's Wonderful"
(Violin, Soprano Sax, Tenor Sax, Trumpet, Trombone, Piano)

"Time and Again"
(Tenor Sax, Trumpet, Trombone, Piano)

Misc
"In the Bleak Midwinter" Gustav Holst
(brass quintet)
"When Jesus Wept: a Prelude for Good Friday"
(full orchestra)
"Sixfrydol"
(a fantasy for string orchestra)

"Missa Brevis in D" by W. A. Mozart
(added viola part, transposed violin for clarinet)

"Hark, The Herald Angels Sing" arr. by Rhonda Frazier, Luke Gambill, and Brian Green
(full orchestration)

"Arise, Your Light Has Come" by David Danner
(full orchestration: adding winds, strings, and additional percussion)

"Sure on this Shining Night" by Morten Lauridsen
(winds and strings)

"12th Mass" by Wenzel Muller
(brass, timpani, percussion and organ)

Easter Hymn Medley
(brass, timpani, percusssion, organ and congregation)

"Danza!" by Linda Spevacek
(flute, strings and percussion)

"i carry your heart" by David Dickau
(flute, strings and percussion)
"Let Me Be the Music" by David Friedman and Anne Albritton
(flute, strings and percussion)

"We Rise Again" by Leon Dubinsky and Stephen Smith
(flute, strings and percussion)

"It Came Upon a Midnight Clear" arr. Joel Raney
(winds, horn, strings, timpani)
"I Want to Walk as a Child of the Light"
(full orchestra, organ, piano)
"Toda la Tierra (in the style of Bizet)"
(full orchestra)